Short answer: If you own a home, then yes, you should get an energy audit.
Longer answer: Let me ask you a few questions.
Is your home too cold in the winter? Too hot in the summer?

Are temperatures uneven from room to room?

Do you have concerns about air quality? Moisture levels?

Is your equipment oversized or loud? (For example, is your furnace turning on and off frequently?)

Are you interested in improving the energy efficiency and comfort of your home?

Are you interested in finding out about rebate programs that can help finance these improvements?
If you answered "yes" to any of these, then please keep reading!
What Exactly is an Energy Audit?
In short, an energy audit is a very thorough building inspection. The primary focus is energy efficiency, but we also consider everything that can affect air quality, comfort, and safety.
The goal is to determine what combination of improvements are needed to create a high-performance home. To do this, we must gather as much information as possible. With your permission, we will unleash our building science nerds on your home.

Tests and Measurements
Full visual inspection of the building, above and below or wherever possible, including photos and infrared imaging.

Blower Door test to quantify building leakage.
Duct Blaster test to quantify duct leakage.
Detailed measurements of the home, such as the volume of each room, the layout and size of the ducts, the perimeter of the building, surface area of windows, etc.
Measurements of the R-value of existing insulation in the walls and wherever else we find it.
A variety of other tests concerning the efficiency of the heating/cooling system, combustion safety, and other situational factors.
See our Energy Audit Page for detailed information on the process.
Reports and Recommendations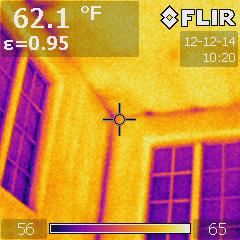 After the inspection we head back to the office and generate a comprehensive report based on the results of the tests. The report goes over each part of the house in detail, showing its current state and highlighting priority areas. We also include relevant photos with attached explanations.
We will then make recommendations for what usually ends up being a variety of scenarios. After this we make detailed itemized estimates that correspond to each scenario, describe their benefit and then show their respective rebate amounts.
We strongly advocate a whole-house approach. This means performing several upgrades at once, and designing them to function in tandem. This concept is extremely important for several reasons:
Our upgrades are based on precise calculation and design. Changing one thing affects everything else.

For example, a high-efficiency, properly sized furnace should be coupled with tightly sealed ducts. Air flow should be controlled to deliver the right amount of heating to each room.

The design/size of the duct system and size of the heating and cooling equipment is dependent on what else is being done to reduce the heating/cooling needs of the house.

Retrofit projects are invasive. As such, it is best to install all the upgrades at the same time, to avoid costly rework.
The Energy Audit is Required for Rebates
Any advanced energy retrofit should start with an audit, period. Fortunately, the audit will also allow you to take advantage of rebate programs.
Eco Performance Builders is approved for PG&E's EUC rebate program (Energy Upgrade California). It works like this:
Using some of the data we collected during the audit, we will create the required software energy model for your house.

This model is used to determine which rebates you will receive for each package of improvements.

We will process all the paperwork for you. Then, 6-8 weeks after the job is complete, you will receive a check in the mail from PG&E.

Our average rebate ranges between $4000 and $6000.
For more information, call (925) 363-4498 or e-mail info@epbuilders.com to speak to a technician, or schedule an energy audit.