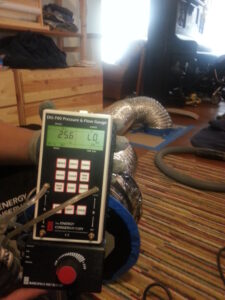 Here at EPB we don't like duct leakage, in fact we hate it.  To check to see how much duct leakage there is on a system we hook up a Duct Blaster.  A duct blaster puts a small amount of pressure (25 pascals) on the duct system after we tape up all of the grilles (aka registers or vents). We then measure the amount of air it takes to maintain that pressure.  Imagine bicycle tire with holes in it.  To maintain a 40 psi pressure in your tire you would need to keep pumping it.  That is basically what is happening with the duct testing, only with a much lower pressure.  The air is measured in cfm (cubic feet per minute) – Imagine a basketball of air a minute.  Well, the average leakage in a California duct system is 30% of air or around 350 cfm of air to maintain the small pressure!!!  Really?  Yes, really.
When we test our systems after installation we are looking for a low number.  Code is 6-15% (depending on the type of work done) which could be as much as 120 – 300 cfm  (depending on equipment size.  What?  That is code?  Yes.  Well we're not going to put up with that.  Our meters read down to 10 cfm leakage while maintaining the pressure and after that they read Lo which means it is too low to record the air flow.  There are 3 ring settings on the equipment, one for high leakage, two for lower and three for lowest.  The lowest only goes to 10 cfm and a forth ring could go down as low as 2-4 cfm.
Our friends in Redding, CA, Energy Docs, created a club named The Ring 4 Club.  It is a club for those contractors who design and install the lowest leakage systems around.  It is also a call to the manufacturer, The Energy Conservatory, to make us a 4th ring.
Well once I found out about the Ring 4 Club I showed it to the crew and they got really excited.  We had done "Lo" systems in the past and we just needed proof to show the club and we were in.  The next system the guys got all the paperwork together (I didn't even have to ask) and submitted it, on their own time.  Next thing I knew we were members.  Every complete system we have installed since has been a "Lo" or Ring 4 system.  I am really excited that this club has inspired the guys to get so involved in a club like this.  I should mention that there are only 6 members.  This isn't because it is unknown it is because it is so special of a designation.
We have HERS (Home Energy Rating System) verifiers come in and check our systems for leakage and out of the five raters that we have used over the years none of them have seen a system read "Lo" except for ours at Eco Performance Builders.  I should let you know that this is all these raters do every day.  They check thousands of duct systems a year for contractors.  Normally they hear contractors complain that the standards are too rigid and they can't get leakage down low enough to pass inspection.  Really?  So when they show up to check our systems they have no problems.
Considering the poor air quality and high utility bills that duct leakage brings everyone should demand a Ring 4 duct leakage.
If you ask a plumber how much leakage they can have on plumbing system he would laugh.  That is how we feel about duct systems too.
Get in contact:

For more information about Zero Duct Leakage systems, call (925) 363-4498 to speak to a technician or schedule an Energy Assessment. You can also e-mail: info@epbuilders.com
Read our
Testimonials
from happy homeowners!