We at Eco Performance Builders are proud to announce that we have won the 2015 Highest Energy Saver Award!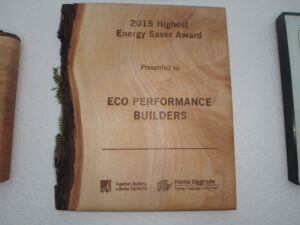 This award, granted by PG&E's Home Upgrade program, signifies that during 2015 we achieved the highest average energy savings for home performance retrofit projects performed by contractors in the PG&E area.
The statistics for the award are based on energy modeling software. The software's predictions are not completely aligned with actual results on a case-by-case basis. However, over the course of a year (which included around 50 retrofit projects) it averages out and gives a fairly good overall picture.
We are particularly proud of this award because, quite simply, we at EPB are obsessed with energy savings (as well as comfort, safety, durability and air quality)! Our philosophy is the same for every job:
Take a whole-house approach to energy efficiency and home performance.

Through careful design and precise execution, make sure we get it right the first time.

Use properly sized equipment and distribute the correct airflow to each room, improving comfort and air quality as well as efficiency. Properly done HVAC is an engineering project and we treat it that way.

Measure our results as much as possible, and keep looking for ways to improve.
The modeling software provides one way to gauge the quality of our work, but it's not nearly enough on its own.
Measuring Actual Results
Before a job is finished, we perform numerous tests and measurements to ensure we stick to our high standards. Our work is not complete until:
We have zero duct leakage. Any duct leakage at all is totally unacceptable as long as we have access to replace the full system.

We've achieved our target building leakage reductions and have as close as possible to 0.35 Air Changes per Hour (ACH) or lower if we are installing mechanical fresh air ventilation.

Each room in the house has the correct air flow and temperature readings to achieve an even temperature throughout the house.

The HVAC system's friction (static pressure) is very low thus making for a very quiet, long lasting and efficient system.

Insulation has been installed to Quality Insulation Installation (QII) high standards and verified with an Infrared camera.
These are the most important things that we can check on the spot. But there are many other measurements to be made later on.
When granted permission, we like to go back to the homes we've worked on and measure the delivered performance of the heating/cooling system. This is a much more in-depth data logging venture. It sometimes lets us further commission our systems.
At least one year later, we ask our customers to provide us with energy usage data for that previous post-retrofit year. We like to compare the actual energy savings with the energy model's prediction.
Finally, we want to know that our system's performance remains high. Although we already take steps to maximize the durability of our work (the most important thing is correctly sized appliances and correctly designed duct work), we still want to check in on it to make sure.
Setting the Standard for Home Performance
At Eco Performance Builders we work very hard and we force ourselves to meet very high standards. For these reasons we believe we have earned these awards.
And there's plenty of room for more!
For more information, call (925) 363-4498 or e-mail info@epbuilders.com to speak to a technician, or schedule an energy audit.