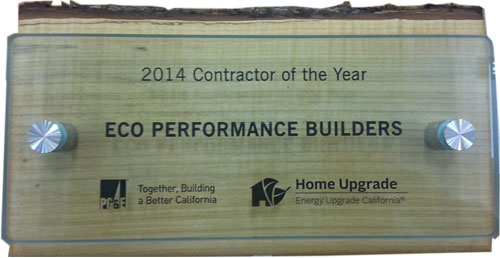 Our second Contractor of the Year Award for 2014 is the prestigious Energy Upgrade California (EUC) "Contractor of the Year" award.  We are sincerely honored to receive this award.  There are over 250 contractors in the EUC program; to be recognized as the best is AWESOME!.  We are grateful to be given the opportunity to be a part of such great program in the first place; to be highlighted is a bonus.  What a great program!  They set you up with contractors like us, who make your house perform better than a new home, then send you a check for thousands of dollars!!!  How great is that?  Very.
We have always been proud of the quality work we do to make homes more efficient, comfortable, and healthy.  We knew our customers loved the work we do based on the many letters, visits, and phone calls we receive.  Now we have not only one award saying so, but two!!!  Here is the other great award we received for Home Performance Contractor of The Year from Build It Green's Green Point Rated Program.

 As always, every accolade, review, thank you letter, praising phone call, and customer "high five" we receive is all due to our great team here.  This company is nothing without the hard work of our personnel.  From assessing homes' needs to fixing them; everything that is great comes from the team at EPB.  Hats off to everyone who is a part of this amazing team and these awards go to you guys, and gal!